IT'S TIME TO TAP INTO THE POWER OF FACEBOOK & INSTAGRAM ADS
— Regardless of the age or stage of your online coaching business!
I've had the opportunity to help hundreds of online coaches build and monetize their online businesses over the past 10 years. One of the most frustrating, confusing, and overwhelming topics is that of paid ads.
Most online coaches are aware of the game-changing power of ads but as you dive into implementing this powerful marketing platform, many are stopped for a few simple reasons:
LACK OF BUDGET
I get it – Hiring a skilled consultant such as myself to run a custom campaign for you can cost thousands of dollars and that doesn't even include ad spend. How can you grow your business using the power of ads without breaking the bank?
LACK OF TRUST
Maybe you have the budget and are ready to invest in a professional but how the holy-heck do you trust a stranger with their consulting fee AND your ad spend. Sounds like a high-stakes game you'd find in Vegas… Here's hoping the house doesn't win!
LACK OF TIME & KNOWLEDGE
You could be the type of coach that wants to gain an understanding of ads before farming them out but are confused on where you would even start to learn the ins and outs of ads. Have you seen the ads interface? It can be overwhelming to even the most advanced media buyers.
So what is the most strategic way for an online coach who is looking to utilize the power of ads
to SKYROCKET their online coaching business?
…It Depends.
(You LOVE that answer, don't you!)
It depends on where you are in your online coaching business and what parts of the Digital Marketing Triangle™ you're willing to sacrifice.
You get to focus on two of the three sides: COST, SPEED, or RESULTS.
The good news is that The Bam Agency has Facebook Ad solutions for you regardless of what stage of your coaching business you're at.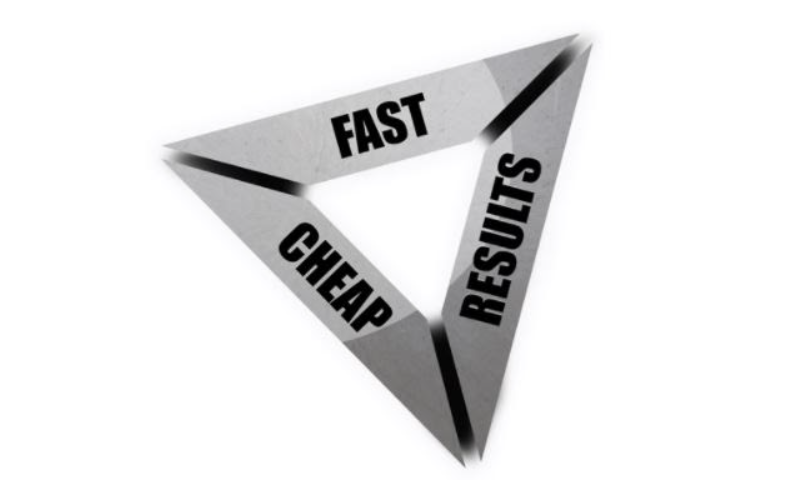 Most Online Coaches We Service Fall Into One of Three Categories:
1. You've Never Tried Ads for Your Coaching Business.
First of all, if you're nervous about starting ads for your coaching business… I don't blame you. Facebook has a bad rep, and I recommend every coach learn the basics for themselves to test out the waters before going big. The BAM Agency offers several coaching and self-study options that will help you find success with a limited budget. Just schedule a free consult to find out more!
For Example:
Accountability and Mindset Coach Adale came to us during the first year of her business. We work closely with Adale in our self-guided coaching and membership programs. Relying on our support for niching, marketing, messaging, and advertising advice, she has built her email list, grown her Facebook Group, and has successfully run ads without spending incalculable time and money trying to figure it out on her own.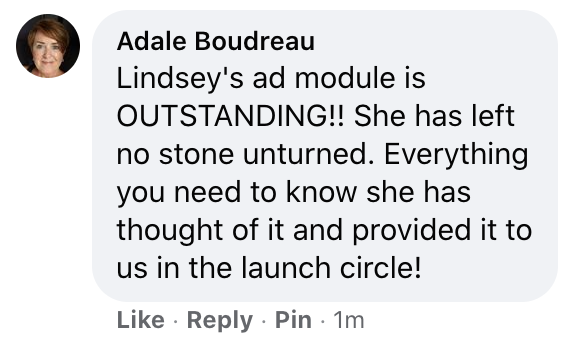 2. You've Tried and Have Seen Some Results
Many of my 6-figure clients have made it to that milestone managing Facebook Ads on their own. It's a gamble. You're looking at your account, you think you're doing it right but you feel like without experience, you can't get the ROI with the ads that you're looking for. Investing in a professionally executed ads campaign can perfect your strategy and allow you to outperform your previous benchmarks.
For Example:
Woman MD Life Coach Dr. Ana came to us looking for us to hop in and support her husband in the Facebook management task she had given him. While they had built a very successful business with this strategy, they both knew in order to get to the next level, they needed someone with experience to help them fully understand the power of ads. They hired us, and we provided and executed a powerful ad campaign that resulted in a 6-figure launch. Wanna hear the best part? They currently REUSE the assets we created every 6-9 weeks!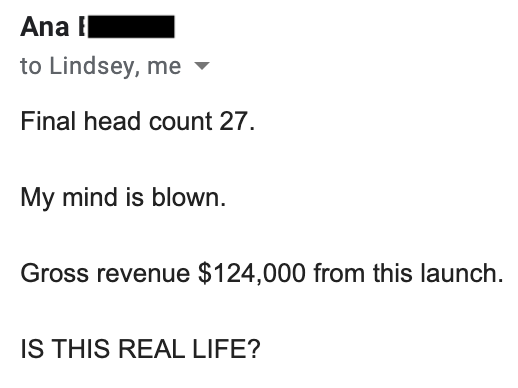 3. You're Ready To Invest in a Professional.
With our VAST experience helping some of the top online coaches execute highly profitable Facebook ads campaigns, we are the best agency in this space. We collectively manage $4+ million in ad spend for our clients each year. We only work with coaches. Sign up for a consultation today, and let's see if we are a good fit to empower your coaching business with highly profitable ads for your courses, memberships, launches and other coaching programs.
For Example:
Karin with YouTube for Agents ran ads on her own for several years. When she was ready to invest $30,000 on her next campaign to build an audience for her launch, she needed to trust that type of ad spend and strategy to professionals. She hired The BAM Agency and had an 8.14 ROI. Outsourcing to the best (us) left her plenty of time, energy, and creativity to focus on her skill set: teaching real estate agents how to sell more using YouTube.

Our Team of Highly-Skilled Facebook and Instagram Ad Buyers ONLY Work With Online Coaches!
We can help you set up and execute strategic Facebook Advertising Campaigns that will allow you to achieve your online business goals.
We have vast experience in running ads for the following: online sales funnels, courses, webinars, launches, challenges, membership sites, strategy sessions, list building, one-on-one coaching, retreat, and events.
Let's chat. It's FREE. I promise you'll find value and direction in that call.
-Lindsey
READY TO TAKE YOUR COACHING BUSINESS TO THE NEXT LEVEL?
BOOK A CONSULTATION CALL WITH US